Can I just say how much I love this play? It is amazing. I'm kind
major
obsessed with it currently. Especially the song,
On My Own
and just in general, the charecter of Eponine. I think I shall read the book asap. And actually, musicals just pretty much make my life. Ok, not pretty much, they do. My cousins (two boys) went and saw Wicked and they didn't like it!
WHAT?!

I did not even know that was possible!!!! How do you not like this?!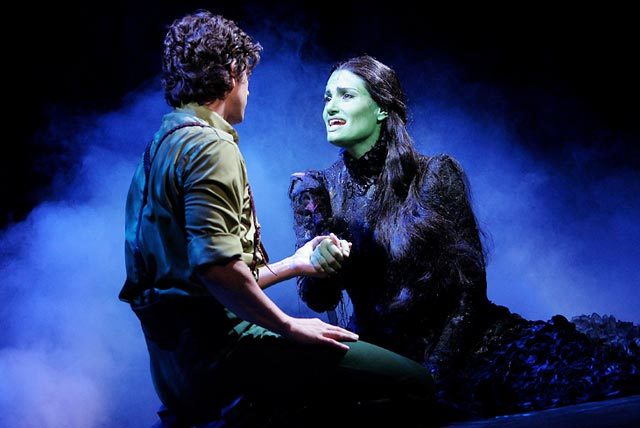 (by far my favorite scene. It makes me cry.)
Like really, is it possible to not like this show?! Please, somebody tell me how that's even possible. Anyway, random story of the day.
So when we were in London I was lucky enough to go see Les Miserables with my grandma. After the entire shock of amazingness, and the gorgeousness of Nick Jonas playing Marius with his voice that surprised me with it's amazingness, we exited the theater. (wow, sorry about the anticlimaticness there). We headed to the back door of the stage because it's tradition when I go to musicals to get the signatures of the cast. (sorry I sound like a brat....wow). Anyway, there was the most ginormous crowd of teen/tweenage girls waiting to get a picture of one of Nick's curls. Not even kidding, I'm sure some of them got like one curl in their picture and will print it out and make it a 20x30 print in their room-pathetic. Ok, so Nick's cool. Ok, he's really cool and super gorgeous but I knew there was no way I was cramming up there for a signature and frankly, wasn't that interested. So I waited at the end of the crowd for where all the other real west end actors were coming out. (sorry Nick). So the first one I spotted was Martin Ball. He played Thenardier and was absolutely STUNNING. Like, I peed my pants watching him in Master of the House. So he starts walking out and I stop him and say, "Hi, you were amazing. Can you please sign my programme?"
And he responds, "So you're not here for the Nick show?" (chuckle, chuckle)
"Not at all. I really am not even interested in him, I just wanted to see the play."
"Well that's good! It's been like this for weeks..... two more weeks to go. How did you like the play?"
"It brought me to tears. So incredible."
We kept chatting for a little bit (which I thought was really cool. He was super personal and kind, not like most actors.) and got to the subject of how he played Dr. Dillamond opposite
the Idina Menzel.
my jaw dropped and I about died.
"sh...sh...she's my IDOL." I hardly choked out.
"I know, right?!" he said, "Funny thing was, I had no idea who she was when we started so everyone was making a big fuss

that

I was playing opposite her and I didn't get it. So I go into the first rehersal and she sings I'm not That Girl and as I teared up with goosebumps everywhere, I got why everyone was making such a fuss. Most amazing run of a show ever. She's a sweet heart."
Yup, the guy who played Thenardier made my life because he played opposite Idina. My claim to fame. Oh, and I saw Nick Jonas, but that's not even half as cool. I seriously probably looked like an idiot with my jaw open & barley breathing.... Oh well. Martin understood. Ya, we're that good of friends now. :)